Noble County and LaGrange County, IN Veterinary Services
Sylvan Lake Animal Clinic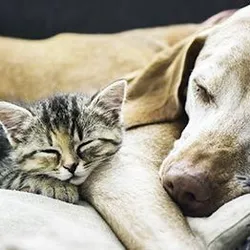 Sylvan Lake Animal Clinic provides a wide-range of veterinary services for smallanimals in Noble County and LaGrange County, IN and the surroundingcommunities. Backed by over 28 years of veterinary expertise, Dr. Vandiver takes pride in utilizing state-of-the-art care and techniques on your small animals. At Sylvan Lake Animal Clinic, we understand how important your pet is to you and your family, which is why we work hard to offer the best possible care available to them.
Our Veterinary Services Include:
Wellness exams
General medicine
Laser surgery
Vaccinations
Internal medicine
In-house blood testing
Nutritional counseling
Prescription foods
General dentistry
Parasite control
Pre-natal counseling
Allergy testing and treatments
Geriatric counseling
Radiographs
New puppy / kitten selection
If you have any questions about our veterinary services, please do not hesitate to contact us the office for more information.
Contact Sylvan Lake Animal Clinic today at 260-854-2130 to schedule an appointment with Dr. Vandiver.